Waterfront & Oceanview Property for Sale
Serviced Residential Lots starting at $189,000 CAD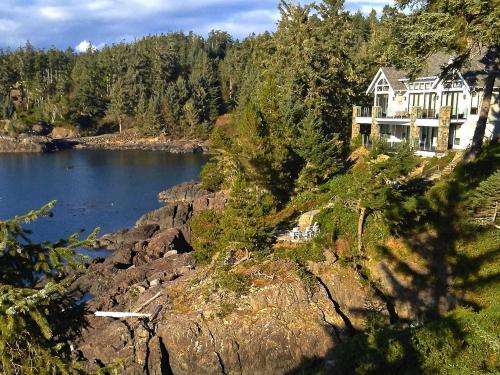 Choose an ideal Vancouver Island residential or recreational property for your dream home from an exceptional selection of serviced residential lots in the 174 acre seaside community at Silver Spray.

Alternatively, you can select one of our spectacular Ocean Cottages or Yacht Suites at SookePoint, on the SW Tip of Canada located at the southern end of the Silver Spray Lands.
Comprehensive Development Map & Concept Plan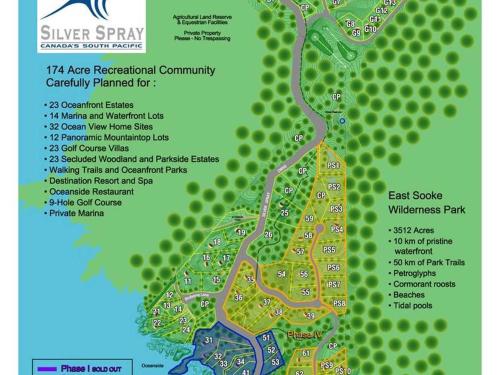 To see full image click on the map above.
Phase IV Selling Now!
Choose your favorite location from a broad selection of possibilities offering varying size lots, views, and prices. Your options include hilltop locations with sweeping 270 degree views of the Strait of Juan de Fuca, the Olympic Peninsula's snow covered mountains and the sunrise over the park; a westerly sunset vista across the ocean looking up the BC coastline as far as the eye can see; or a view that takes in the marine activity coming and going from Sooke Harbour and the twinkling lights of the surrounding communities.

For those seeking a naturally private location, yet still only a few steps from the nearest ocean view, you'll love the properties that border East Sooke Wilderness Park, the largest oceanfront park on southern Vancouver Island. This waterfront wilderness of 3500 acres is a timeless masterpeice, featuring abundant wildlife and over 50 km of pristine hiking trails. Nice to have right next door!
Phase IV Master Lots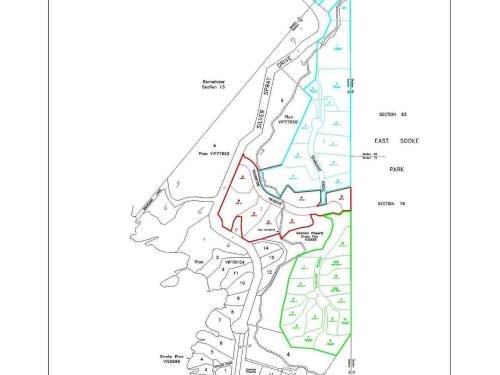 Starlight Grove (1) 10 Lots shown in blue
Iron Mine Hill (2) 7 Lots shown in red
Thornton Heights (3) 13 Lots shown in green

Also available is a premium Oceanfront Estate Lot at Emerald Beach (Lot 3) now offered to the public for the first time.

Offering is made by way of Disclosure Statement in accordance with the Real Estate Development Marketing Act. E&OE.
For prices and availability please click the link at the bottom of this page.
Financing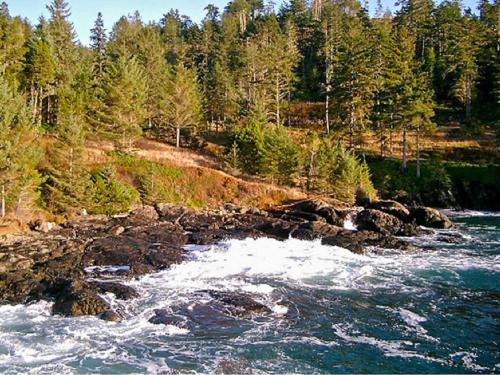 Contact us for information on financing for Canadian residents or non-residents.

We can provide you with information and an introduction to lenders who can help you purchase your lot or build your new dream home.
Non-Resident Ownership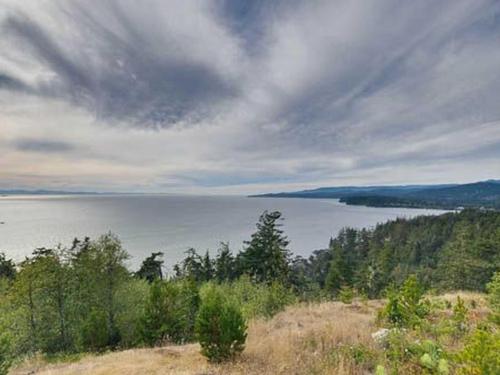 I
t is not necessary to be a Canadian citizen to purchase real estate here. International citizens are treated just like Canadian buyers, enjoying the same buyer's rights as Canadians.
If you stay in Canada for six months or less each year, the government considers you a tourist or 'non-resident'. You are able to do just about anything - open a bank account, purchase land, a car, buy stocks or bonds (except get free health care and vote :-).
Site Tours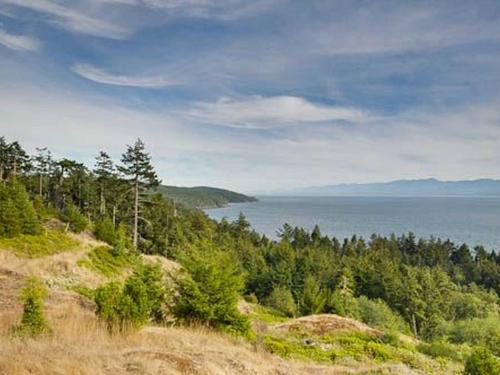 Nothing beats a personal tour of SookePoint and Silver Spray. There are nuances you will want to learn. To schedule your tour and help make your travel plans easier, be sure to contact us ahead of time. That way you can also take advantage of our Travel Credit.

Come out and experience Silver Spray and SookePoint first hand and make your visit the most memorable experience.

To receive more information on prices and availability, or to schedule a site tour, CLICK HERE.
Sales made only by Disclosure Statement. E&OE.